Journal Front Page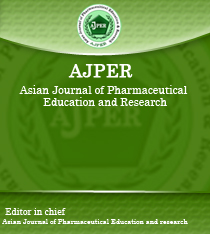 News & Events
2018 - JULY
FLOATING MICROSPHERES - AN EXCELLENT APPROACH FOR GASTRIC RETENTION
Lokesh Parmar*1, Mansi Gupta1, Prabhat Jain2
1. Technocrats Institute of Technology-Pharmacy Education & Research, Bhopal (M.P.)
2. Scan Research Laboratories, Bhopal (M.P.)
[ABSTRACT]
[PDF]
AN UPDATED REVIEW ON: LIPOSOMES AS DRUG CARRIERS
Mansi Gupta*, Arti Vishwakarma
Technocrats Institute of technology- Pharmacy, Bhopal (M.P.) Pin- 462021, India
[ABSTRACT]
[PDF]
A COMPREHENSIVE REVIEW ON: SUSTAINED RELEASE MATRIX TYPE DRUG DELIVERY SYSTEMS
Krishna Mandal*, Vandana Sethi, Shilpa Pahwa
School of Pharmacy, Lloyd Institute of management and Technology, Greater Noida (Delhi/NCR) 201306
[ABSTRACT]
[PDF]
ANTI ANEMIC ACTIVITY OF FRUIT OF PRUNUS DOMESTICA IN PHENYLHYDRAZINE INDUCED ANEMIC RAT
Pawan Goud*, Shivendra Raghuwanshi, Ankur Joshi, Sapna Malviya and Anil Kharia
Modern institute of Pharmaceutical Sciences, Indore (M.P.), India, 453111
[ABSTRACT]
[PDF]
EVALUATION OF ACUTE, SUBACUTE AND SUBCHRONIC TOXICITY OF POLYGONUM GLABRUM
Raja. Sundararajan*, Ramya. I
Department of pharmaceutical chemistry, GITAM institute of pharmacy, visakhapatnam, Andhra pradesh, India.
[ABSTRACT]
[PDF]
DEVELOPMENT AND CHARACTERIZATION OF ACYCLOVIR LOADED LIPOSOME USING ROTARY FLASH EVAPORATION TECHNIQUE
Mansi Gupta*, Arti Vishwakarma
Technocrats Institute of technology- Pharmacy, Bhopal (M.P.) Pin- 462021, India
[ABSTRACT]
[PDF]
DEVELOPMENT AND VALIDATION OF BIOANALYTICAL METHOD FOR ESTIMATION OF DARIFENACIN HYDROBROMIDE IN DOSAGE FORM USING ?-NAPHTHOL
N.Raghavendra Babu*, K. Akshitha Reddy, Y.Padmavathi, P.Ravi Kumar, D.Venkat Vijaya
Department of Pharmaceutical analysis, G.Pulla Reddy college of Pharmacy, Mehdipatnam, Hyderabad, India.
[ABSTRACT]
[PDF]
NEW COST EFFECTIVE STABILITY INDICATING RP-HPLC METHOD FOR SIMULTANEOUS DETERMINATION OF ASPIRIN AND OMEPRAZOLE IN THE BULK DRUG AND SYNTHETIC MIXTURE
Amit Kumar Jain* Dr. B. K. Dubey, Deepak Basedia, Salaj Khare, Suresh Dhakar, Om Prakash
Technocrats Institute of Technology- Pharmacy Education & Research, Bhopal (M.P.).
[ABSTRACT]
[PDF]
ESTIMATION OF BIO-ACTIVE CONSTITUENTS BY RP-HPLC
Chaitanya Sarathe *1, Suparna Ghosh1 Shweta Sharma1, Prabhat Jain2
Career College, Bhopal (M.P.) Pin- 462023, India
[ABSTRACT]
[PDF]
NEW STABILITY INDICATING RP-HPLC METHOD DEVELOPMENT FOR ANALYSIS OF ZIPRASIDONE IN BULK DRUG AND PHARMACEUTICAL DOSAGE FORM
Dr. Deepak Basedia*1, Dr. B. K. Dubey1, Prabhat Kumar Jain2, Suresh Dhakar, Amit Kumar Jain1, Zeeshan Ali1
1. Technocrats Institute of Technology- Pharmacy Education & Research, Bhopal (M.P.)
2. Scan Research Laboratories, Bhopal (M.P.)
[ABSTRACT]
[PDF]
EFFECT OF COOKING ON ORGANIC AND CONVENTIONAL SRI LANKAN GREEN VEGETABLE LEAVES; DETERMINING THE ANTIOXIDANT, ANTIMICROBIAL AND NITRATE CONTENT
V. Vimalendran and M. Kandiah*
Department of Biomedical Science, School of Science, BMS, 591 Galle road, Colombo 06. Sri Lanka
[ABSTRACT]
[PDF]