Journal Front Page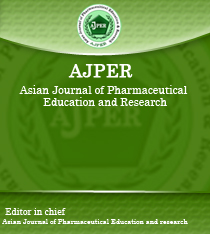 News & Events
2017 - OCTOBER
A REVIEW ON GENUS NYMPHAEA: MULTI-POTENTIAL MEDICINAL PLANT
Manjeet Singh, Alok Pal Jain*
Sarvepalli Radhakrishnan University, Bhopal (M.P.)
[ABSTRACT]
[PDF]
PHYTOPHARMACOLOGICAL ACTIVITY OF MORUS ALBA LINN. EXTRACTS – A REVIEW
Shail Bala Sanghi* and Sabira Mushtaq
Govt. M. L. B. Girls. P. G (Auto.) College Bhopal (M.P.)
[ABSTRACT]
[PDF]
INNOVATIVE TECHNOLOGIES FOR GASTRO-RETENTIVE DRUG DELIVERY SYSTEM
Vijay Chudiwal1*, Sadhana Shahi2, Swapnil Chudiwal1, Dheeraj Ahale1
1Wockhardt Research Centre, D-4, M.I.D.C., Chikalthana, Aurangabad, Maharashtra (India), 431006. Mobile: +91-9175746701
2 Government College of Pharmacy, Behind Vitts Hotel, Aurangabad, Maharashtra (India), 431001. Mobile: +91-9325775722
[ABSTRACT]
[PDF]
INVESTIGATIONS ON SOME PLANTS FOR THE MANAGEMENT OF TYPE 2 DIABETES
Pravin Morankar, Alok Pal Jain*
Sarvepalli Radhakrishnan University, Bhopal (M.P.)
[ABSTRACT]
[PDF]
PHYTOCHEMICAL SCREENING OF ACTIVE METABOLITES PRESENT IN EICHHORNIA CRASSIPES (MART.) SOLMS AND PISTIA STRATIOTES (L.): ROLE IN ETHANOMEDICINE
Tulika Tyagi*
Faculty of Biotechnology, B. B. D. Government P. G. College, Chimanpura, Jaipur, University of Rajasthan, Jaipur, Rajasthan, India.
[ABSTRACT]
[PDF]
FORMULATION AND IN-VITRO EVALUATION OF ORAL HYDROGEL CONTAINING MICONAZOLE NITRATE
Umesh T. Jadhao*, Bharat W. Tekade, Rupesh Patil, Amol. P. Patil., Vijay R. Patil
TVES's Honourable Loksevak Madhukarrao Chaudhary College of Pharmacy, Faizpur
[ABSTRACT]
[PDF]
PHYTOCHEMICAL SCREENING AND TOTAL FLAVONOID CONTENT ASSAYS OF VARIOUS SOLVENT EXTRACTS OF FRUITS OF STRYCHNOS POTATORUM LINN.
Usma Gangwar*, Anita Choubey
Dept. of Chemistry, Govt. M. L. B. Girls College, Bhopal (M.P.)
[ABSTRACT]
[PDF]