Journal Front Page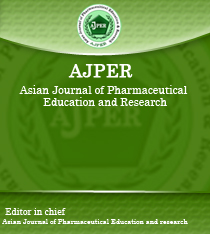 News & Events
2015 - JANUARY
A WAR AGAINST INFLUENZA VIRUS- TAMIFLU
Akshay U. Bachal*, Sushant D. Bamane, Smita J.Patil, Dr. Rajendra. C. Doijad
Shree Santkrupa College Of Pharmacy, Ghogaon, Karad - 415111.
[ABSTRACT]
[PDF]
FORMULATION AND EVALUATION OF TOPICAL SPRAY OF ANTIACNE AGENT
Roshan Rajendra Rajput 1*, Dr.Naazneen Surti1, Ishwar Pawar2
1 Parul Institute of Pharmacy and Research, Limda, Vadodara.
2 Shree Dhanvantary Pharmacy College, Surat.
[ABSTRACT]
[PDF]
Formulation and Evaluation of Self-microemulsifying drug delivery system of Curcumin for enhanced solubility and dissolution.
Asit R Sahu1*, Sunil B Bothara2
1C.U.Shah College of Pharmacy & Research, Surendranagar, Gujarat, India.
2Shri Bhagwan College of Pharmacy, Aurangabad, Maharashtra, India
[ABSTRACT]
[PDF]
COMPARATIVE EVALUATION OF IN-VITRO ANTIFUNGAL ACTIVITY OF ETHOSOMAL AND LIPOSOMAL GEL FORMULATED WITH FLUCONAZOLE FOR THE TREATMENT OF DEEP FUNGAL SKIN INFECTIONS
Gajendra Singh Rathore*, Dr. Yuveraj Singh Tanwar, Dr. Pushpendra Singh Naruka
Bhupal Nobles College of Pharmacy, Udaipur (R.J.)
[ABSTRACT]
[PDF]