Journal Front Page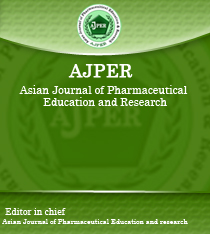 News & Events
2013 - JANUARY
A review on Histamine2 receptor antagonist: pharmacological and analytical aspects
Saswata Ku. Parida*, N. P. Jivani, Bimal N. Patel, Akruti S. Khodakiya,
Asit R . Sahu, Sibanarayan Acharya
C. U. Shah College of Pharmacy & Research, Wadhwancity, Surendranagar, Gujarat
[ABSTRACT]
[PDF]
LUNG TARGETING OF ANTITUBERCULAR DRUGS BY MICROSPHERE: A REVIEW
Anurag Sharma*, Manish k. Chakradhari, Dilip Agrawal, M.P. Khinchi, Natasha Sharma, M.K. Gupta
Department of Pharmaceutics, Kota College of Pharmacy, Kota, Rajasthan
[ABSTRACT]
[PDF]
Direct spectrophotometric determination of 5-nitroimidazoles - A review
G V S R Pavan Kumar*, B Sreerama Murty, K T V S Sai Kumar
Department of Chemical Engineering, Maharaj Vijayaram Gajapathiraj College of
Engineering, Chintalavalasa, Vizianagaram 535005 (AP)
[ABSTRACT]
[PDF]
SYNTHESIS AND CHARACTERIZATION OF MOLYBDENUM COMPLEX OF GLIMEPIRIDE, AN ORAL ANTIDIABETIC DRUG.
Sibi Jose1*, S.A. Iqbal 2, Ashish Pathak3
1. Department of Chemistry, Sadhu Vaswani College, Bairagarh, Bhopal-462001
2. Crescent College of Technology, Nabibagh, Bhopal-462 038
3. Ravishankar College of Pharmacy, Karond, Bhopal-462010 (India).
[ABSTRACT]
[PDF]
Ion-association Methods For The Determination of Mirtazapine in Pure and Pharmaceutical Formulations
Murthy Ch.V.R1,Acharyulu M.L.N *2,Jagannadharao V3, Reddy T.S4,Rama Lakshmi C.S5
1.Department of Chemical Engineering, AU College of Engineering (A),Andhra University, Visakhapatnam-530003 Andhra Pradesh (India).
2.
Department of AS&H, VITAM College of Engineering, Mindivanipalem Anandapuram Mandal, Visakhapatnam, A.P , India.
3.
Department of Chemistry, Anil Neerukonda Institute of Technology and Sciences, Sangivalasa (AP) India.
4.
DLR College (Degree & P.G COURSES), Gollalamamidada, E.G. Dtt. A.P,533344.
5.
C.S.R. Lakshmi, Asst. professor, Nargund College of Pharmacy, Bansankari 3rd stage, Bangalore-85,Karnataka,India
[ABSTRACT]
[PDF]